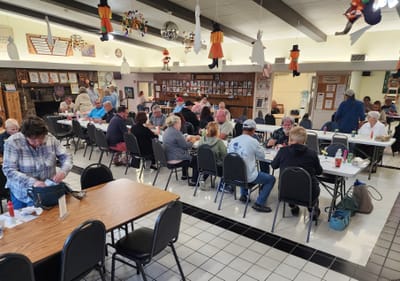 1. The Club is open 24 hours a day to members whose dues are paid up to date. All others are welcome at public functions such as dances and workshops. The Club is open to all for AA meetings and non-members are permitted at The Club 1/2 hour before to 1/2 hour after regularly scheduled meeting times.

2. A dues paying member must accompany ALL guests. A guest may attend The Club up to 3 times. If any guest is interested in becoming a member of The 521 Club please direct them to any Board Member.

3. Children under 16 are not permitted in the Club except for certain special events and AA Meetings, and a parent or guardian MUST accompany them. For clarification on what special events children are allowed to attend, please look to the event's flier for information, if the flier does not specify, please ask a Board Member.

4. No person under the age of 16 is permitted to use the pool table or dartboard at ANY-TIME.

5. Solicitation of ANY KIND is not permitted without prior approval of the Board.

6. Pets are not allowed inside the Club, except for those permitted under ADA laws. (Example: guide dogs)

7. Be polite and considerate of all people at The Club.

8. Shoes, shirts, pants, shorts, skirts, kilts, or any other fashion of opaque covering shall be worn at all times.

9. No unwanted physical contact between people will be tolerated.

10. Theft, stealing, or any other dishonest behavior will not be tolerated.

11. Clean up after yourself.

The rules listed above are in addition to the By-Laws of the 521 Club. The Board of Trustees has the authority to enforce the rules as necessary. Violation of the rules could result in disciplinary action including suspension of membership or rescinding of guest privileges.